The Beach at KOK Campground - Caissie Cape, NB


Enjoy the warmest salt water swimming north of Virginia.

Staying at the KOK Campground you have access to some of the areas best kept secrets on beaches. Along with the KOK Campground having its own access to the beach, Caissie Cape Beach a 5 minute walk, we are within a short 5 minute drive to some of the areas finest ; Cap de Cocagne Beach at Cap de Cocagne Wharf, Gallant Beach at Caissie Cape Wharf and Ocean Breeze Beach along Route 530 as well as being a 20 minute drive to Parlee Beach. So why bother wrestling with the crowds for a place to put your towel when you can spread out and enjoy your own little piece of the beach. Simply stick your umbrella in the sand and stake your claim. There is always lots of room ... but that's our little secret, no need to spoil a great thing.Whether you are hoping to catch some rays, take a refreshing swim or build castles in the sand, there is nothing more relaxing than a day at the beach. To make things easier to plan your beach days Low Tides are always posted in the store up to 3 days in advance. Most of our vacationers who spend time on our beaches like to plan their beach days around the low tides to catch the sand bars.
So Grab your towel and sunscreen and hit the
sun-baked, sandy beach!
Path Ways to Beach: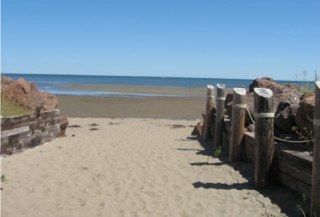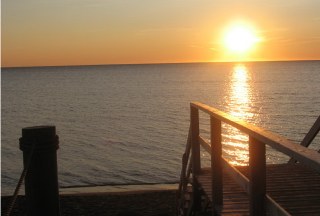 Victors Way Kings Way
Morning time at the Beach
For more information...
KOK Campground
1884 Rt. 530
Grande Digue, N.B. E4R 5L9
Phone: (506) 576-7080
Fax: (506) 576-7980
Copyright © 2000, KOK Campground